Illuminate your every moment
BALMUDA The Lantern will light up your space with its soft glow. Let the lantern bring a special brightness to even the most ordinary of moments. 
Candle
Emulating the soft dance of a candle's flame to create a relaxing atmosphere. It is the perfect accompaniment for drinks, music, and conversation.
Amber
A natural and gentle brightness with warmth in color. It can be used as a bedside lamp or a night light.
Warm White
A warm white light, perfect for reading in the dark. It is also recommended for outdoor activities such as evening walks.
Candle Setting
Emulating the soft dance of a candle's flame to create a relaxing atmosphere. It is the perfect accompaniment for drinks, music, and conversation.
Anywhere your heart desires
From warm flickering candlelight to warm illuminative white light, BALMUDA The Lantern is an LED lantern that makes everyday life a little more special. With a built-in battery, you can use it both indoors and outdoors.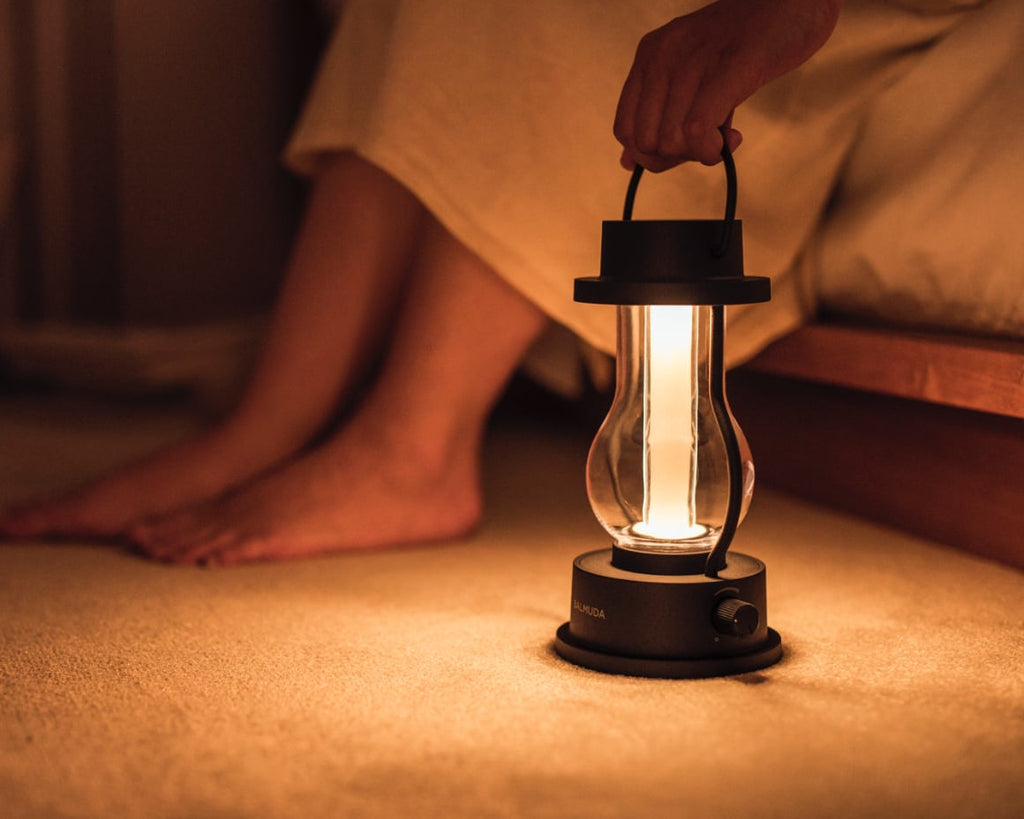 The GQ 2022 Home Awards
"The Best Portable Outdoor Light"

The Balmuda Lantern Is a Thing of Ambiance-Setting Beauty

BALMUDA's The Lantern has Light Settings for Every Mood

The Warm Illuminance of Balmuda The Lantern

Balmuda Lantern Review: A Designer Light that Works Outdoors and Inside
Nice stuff
thomas hansen on Mar 14, 2023
It's smaller than anticipated, but after adjusting to expectations, it's fine. The light temperature is soothing. Overall a great product.
Love my Lanterns…
Larry Goldsmith on November 15, 2022
I bought two...they are always and forever on my window sill....and then when I need one to light up my guitar amp conrol section...I just take it on over and let the nice amber glow set the mood. Thank you Balmuda!!
Great Product
Austin on Jan 28, 2022
Love the vintage vibe of this lantern but it works in a modern way. Great product and excellent quality. Highly recommend!
Light for living
Greg Warwick on Apr 23, 2022
The light from the lantern is beautiful and I use it for early morning thinking or in the evening after using my telescope.I recently gave one to my son who is completing his dissertation by its light, like Cicero. Perhaps it seems expensive to some, but I've found it an affordable luxury, and sort of needed right now.
Product Stories
I created BALMUDA The Lantern with the intention of enhancing small moments to their fullest. Here is the story of its development.
Gen Terao, CEO and Chief Designer, BALMUDA
After hitting the slopes
My love of skiing started at a young age. Today, I make several trips to the Togakushi area in Nagano Prefecture every year. Gliding on the fresh powder right after a night of snowfall is just exhilarating. The lodge where I always stay is always homey — when dinner is ready, the manager rings a large bell at the entrance of the dining hall to let the lodgers know. Unwinding in the lounge after a delicious meal with a few drinks and a good book after a full day of skiing is nothing short of blissful. But why was this lounge so comfortable? What made it so special? 

After some observation, I noticed the lighting was different: there were no large lights but rather many small, dim lights placed strategically around the room. The setting was both bright enough to read and dark enough to relax. This subtle light was to be found in all of my calm, relaxing nights.
To make the night a little darker, a little calmer
The year was 2007, and I was still building our products in my house. I had just launched a floor lamp called Silence, which, to this day, still illuminates a corner of my room (as I was not the type to install ceiling lights, this was something that I had originally made for myself).

Relaxing in that ski lodge in Togakushi, I suddenly recalled Silence and wondered what kind of light product BALMUDA would make today? The answer was a light that can be used from the afternoon to the dawn. Like the flames in the fireplace that crackled in front of us, the light would need a kind of complex flickering that beckons to be enjoyed. It should also be something that can be portable -- with the ability to be enjoyed both indoors and outdoors.

After spending a fabulous weekend in Togakushi, I kept thinking about this new lamp on the ride back to Tokyo. That Monday, I called my development team in for a meeting.
Shift in design
For any product, the journey into perfecting its design is long and difficult. BALMUDA The Lantern was no exception to this, as the most important design element of this product was the light.

The LED light source is at the very top of the lantern, and from there, light is guided into a tube in the center and emitted softly. The bright light source is hidden so that it does not shine directly into your eyes.

The area we struggled the most with was the design of its exterior form. Our initial brainstorming started with lodges, fireplaces, and old streetlights. We strived to maintain this nostalgia, so a rectangular prism shape stayed in our drawing board into the late stages. Unfortunately, this design idea did not harken to a cozy, warm dining table — a feeling we also wanted to include. Thus, the near-final design was overturned and redesigned to take its cue from old-fashioned lanterns.
Time to be savored
With BALMUDA The Lantern, we want to create special moments that are enjoyed to their fullest. Use our gentle light while getting lost in a book, listening to your favorite record, or watching the stars with a loved one. Make meals glow a little bit brighter, no matter if it's just two people or a group of ten. With BALMUDA The Lantern accompanying you, such moments are bound to feel a little more meaningful.

As engineers, we have a duty to make sure that our products adhere to their originally desired intention. When we first developed the idea for the lantern, it was with the intention of enhancing small moments. Once we had the prototype, we needed to test it out to ensure it delivered it's intended purpose. One of our designers submitted a formal work request to host a small party in our studio. His reasoning was to test out the lantern to see if it truly enhanced this gathering. In the end, the team had such a special evening, we knew we were successful in creating a product that stayed true to its original vision.
A deep calm
There's a great movie called "Interstellar". It is about a crew of chosen people who try to save humanity. There's a memorable scene where they are anxious within a lost spaceship and are only calmed by the chirping of a recorded cricket. Inspired by this scene, we tried this silly idea of playing cricket chirp sounds from the BALMUDA The Lantern. One designer kept crickets at home and recorded their chirps at night. To make this idea a reality, we needed to apply microcomputers and speakers, which caused a significant increase in cost. Ultimately, the idea was not adopted, but it was not only due to the cost -- the sound made it feel as if there were actual crickets in the room. In other words, it was not calming but actually disturbing.

"Life is not always easy. In those trying moments, the BALMUDA team and I hope that BALMUDA The Lantern can help you slow down and unwind."
BALMUDA The Toaster

The toaster that delivers the ultimate aroma and texture. Unique steam technology and precise temperature control recreate the flavor of freshly baked bread.


BALMUDA The Brew

Perfecting the art of aroma, taste,
and aftertaste of coffee through a
scientific approach.

BALMUDA The Kettle

The kettle that delivers a pouring experience unlike any other. Compact in size with an expertly-crafted design, the nozzle and handle help control the flow.

BALMUDA The Speaker

A unique speaker that creates clear, three-dimensional sound featuring lights that can synchronize with the music. It delivers the energy of sound to both your ears and eyes.

BALMUDA The Lantern

From warm flickering candlelight to warm white light, BALMUDA The Lantern is an LED lantern that makes everyday life a little more special.